Ok, as many know I just installed a Cervinis' Shaker Hood/Ram Air Kit. I wanted to start a new thread to show install pics. Before, after and also maybe help or head off any issues or save others potential issues or problems with their installs down the road.
1) First and foremost be patient when ordering and think ahead. Neither of which I am known for! Cervinis' own website for example states 4-6 weeks for a painted hood. Mine took 9.5 weeks.
2) Call opposed to ordering on the web and here is why! Couple of reasons. One, ask about time. I did and still didn't make a difference but still. Two, ask about discounts, I did and ended up realizing that if you purchased a second item you saved 10%. Ok, this is stupid. Buy a $150 grill, save 10% off what amounted to a $2600 order (hood, paint, grille) save $260, sell grille for $90 save $350. I don't know but it works! LOL
Also, ask about back orders, parts on hand such as complete kit ready to go? Shakers built and ready, hoods ready etc. Trust me on this.
3) Ask them what carrier and when it will be shipped. For the East Coast they used AFB for mine. It sat here in Orlando from Friday to Monday, could have and should have been delivered that Friday as it arrived Thursday. Stuff like that just bothers me. FedEx or UPS would not have done that I don't believe. I have always had EXCELLENT success w/both.
4) Here is a BIG ONE that you can easily miss as I did. If not for "BurnOne" (forum member) I would have been totally screwed! If you order online and order the "PAINT" option, YOU MUST CLICK the little box that also says "Paint bottom side" for an additional $200!!!!!!!!!!!!!!!!!! Otherwise, much to YOUR surprise, the hood will arrive UNPAINTED!!!!
EVEN THOUGH I CALLED, the sales rep NEVER mentioned this to me! Can you imagine??? I would have hit the roof!
Luckily I happen to see the post on this forum in time and made the added option to my order! Now, as for paint all I can tell you is the color match for my car is DEAD ON and the quality is FLAWLESS! I could NOT be any happier!
5) Fit & finish. Same as paint quality above. I could not be any happier! Not too mention the windshield squatters are relocated as Dodge should have done from day one!
6) Everything you need is included. Now, in saying this I will say that I was under the impression that Cervinis' supplied a new air tube that connects the air box to the throttle body. Not sure why I thought that, but I did. They DO NOT and you DO reuse your stock air tube. I am glad that my SRT8 air tube had not sold as it looks and fits MUCH nicer not too mention it DOES NOT have the air muffler ugly stupid thing hanging off the passenger side. Something to consider rounding up during your down time while waiting for your new hood to arrive...
7) You will need to do something for coil pack covers. I choose to go with 3g custom covers and I am glad that I did! I went with the steel, plain, simple, no cutouts etc. NOW, if you go this route, when you order them you have to choose if you are going to be using a stock air box or not. If you are using a Shaker hood, you will choose NOT. This means there will be NO notches in the driver's side coil pack cover up front and you can not install them until you remove your stock air box. So don't get ambitious and try to install your coil pack covers ahead of time. They WILL NOT fit!
I also choose plain steel covers. I primed and painted mine and I am VERY happy with the quality of them. They are VERY VERY thick gauge steel and the bends and welds are just PERFECT! you CAN NOT go wrong and the cost is unbeatable IMHO.
8) Take your time, have a helper. At least one. Everything is metric. Plenty blankets. Their instructions are very good but do not cover everything as you will find out. There is nothing about removing the old hood, washer hoses etc. My recommendation is to remove the old hood FIRST! Period! It makes everything else easier plain and simple.
9) Take several before & after pics. It's great reference if need be and nice to have as well.
10) I installed the small air filter under the driver side coil pack cover to keep it hidden. I like to keep as many aftermarket looking items hidden as possible. I used the stock elbow and rubber tube from somewhere in the stock air tube setup. I had pulled them all off and apart so I don't know where the parts came from exactly I just looked around and found what I needed and they worked out perfectly allowing the small air filter to connect to the factory pipe outlet and go point and lay in an area where the coil pack cover would lay over the top of it with no issues. Maybe it's just me, but I just do not like the look of odd parts like that sticking out here and there. I am even painting the large air filter grille cover semi flat back because it just jumps out and stands out too much in my opinion. I like a clean, stock look as much as possible.
11) Install time including the Mopar Hood Pin Kit was a grand total 5.5 hours. We started at 12;30 and finished at 6pm. All in all I must admit, this job went about as smooth as it could have. Aside from the plastic wire holder breaking off in the head bolt hole on the passenger side, that was the only setback so to speak. Once I heated up a awl and phished that out, we were back in action. I have to give my Son & my Wife a lot of credit as they really amaze me with their continuing support and help with each and every step we take wit this project. They are simply the best pit crew a car guy could ever wish to have!
12) Hood alignment: Ok, you may or may not believe me. But, all we did was put the new hood on the hinges, used the supplied bolts (they were in the steel legs/feet that were bolted to the hood inside it's box when shipped) as they are smaller in diameter than the stock ones. We simply put the new bolts with their washers into the hood hinge holes and lined up the washers with the paint marks on the bottom side of the hinges (put the washer inside the unpainted areas like a bulls eye) and tightened them down. Slowly let the hood down (the stock latch had already been moved over as per the instructions) and bingo! That was it! It may not be 100% perfect, but I know enough that if I messed with it anymore, it would not be any better in fact it would be not as good. I would call it 98%. The two points up at the windshield are dead nut perfect! IF anything, it MAY need to go to the passenger side by a fraction of a millimeter. But you know what, we drive our car. DAILY! She isn't going to a concourse show and she isn't going to a beauty show!
I hope anyone doing this will have this much luck with the alignment as we did as I have done this in the past where it took hours and didn't look no where near as good!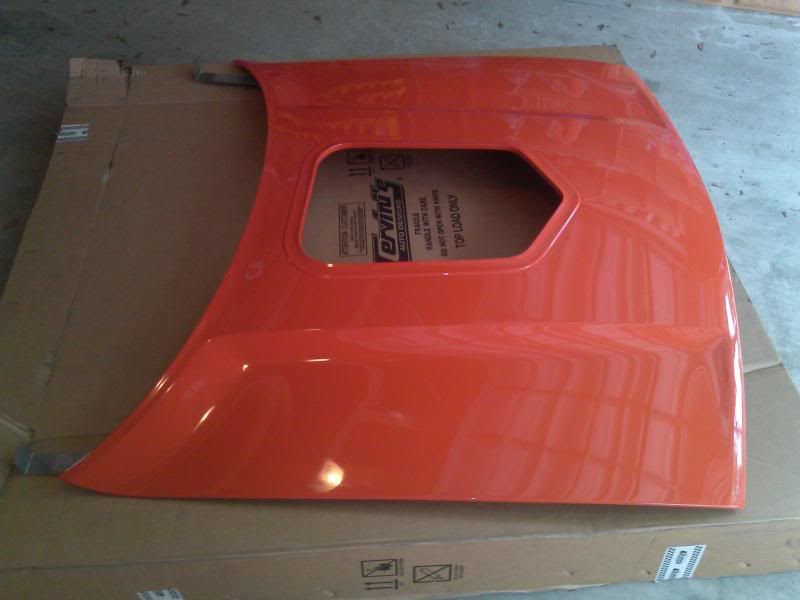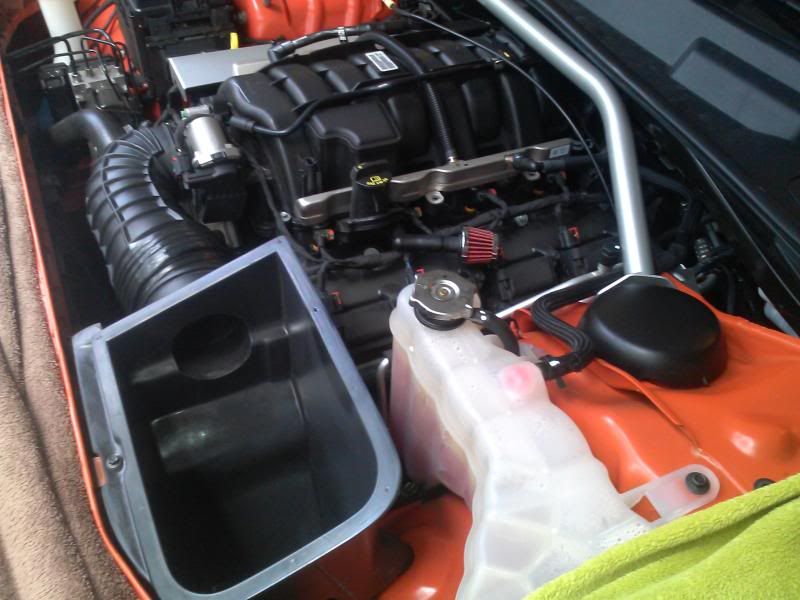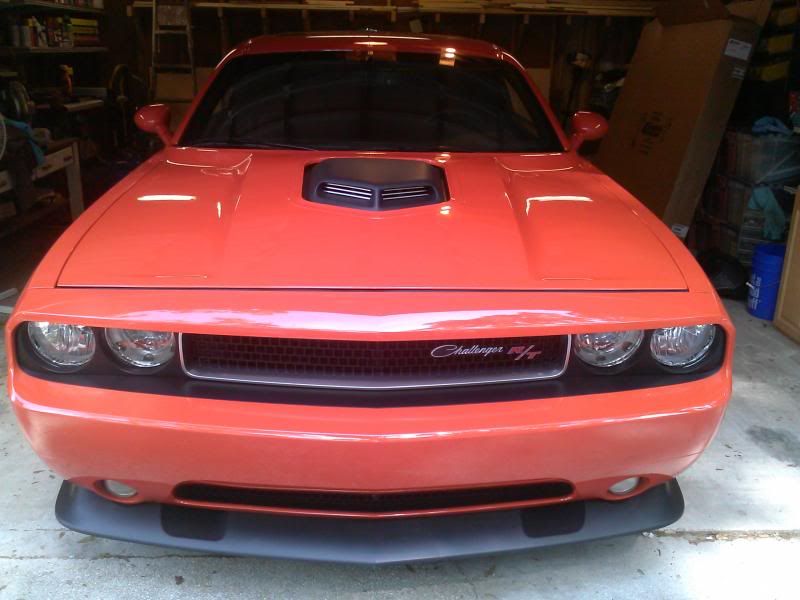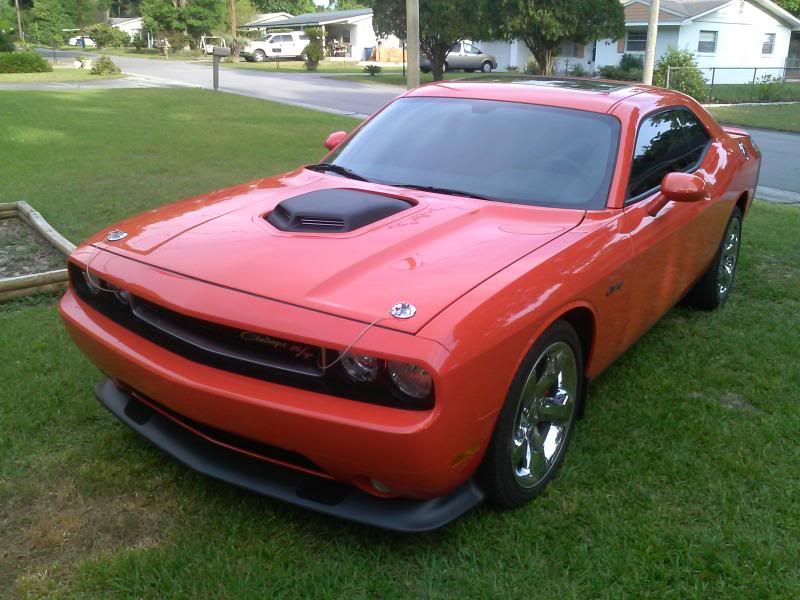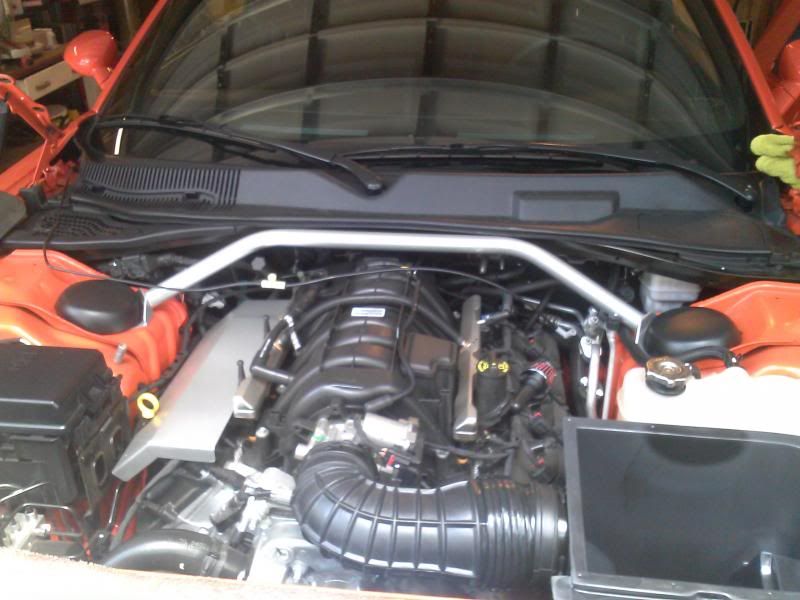 In the pic below there is a factory, plastic wire holder that screws into the threaded hole into the face of the head. Take a lesson from me, undo the wires from this plastic thing FIRST and actually UNSCREW the holder from the head as you need the threaded hole to install a new bolt (supplied with your kit). I thought this was a "push in" holder and tried to pop it out. Yea, not good. The head popped off and left the shaft in the hole. Yea that was fun.
IF you have a strut brace as I do (Petty Garage) for whatever reason, the driver side is SUPER tight as there is part of the Shaker base that has a rib in the mold that will basically ride right against the brace. Now, had I not already muscled all four coil pack cover bolts back in at that point I may have taken a moto-tool and notched out a half round in the rib for the brace to nicely fit around. Instead, I removed all three brace bolts, seated the Shaker base and driver side coil pack cover bolts then re-seated the brace and bolts. It's tight, but it did fit.
There was a bit more assembly work involved that I expected and the instructions also did not mention anything about drilling out the holes in the lower base part of the Shaker assembly to match the holes that were already drilled in the top half. Clearly they needed to be drilled as there were 15 holes in the top half and they provided 15 (well 16) killer phillips head, plastic connector things. Because they do not mention drilling obviously they don't tell you the size drill required. Well, you will need a 1/4" bit. As always, becareful as you will be drilling these holes after the Shaker base has been secured to the top of the engine. I honestly can imagine trying to drill this any other way as there would be no way to make it stable. I'm guessing this is why it doesn't come pre-drilled? Also, when cracking down and tightening these plastic connector things, be sure to use a GOOD screw driver and push down hard! These things are tough to get to draw up tight. I could see where if you were using an old wore out screw driver you could easily strip out the heads on these things in a split second and that would look like crap as you see these things every time you pop the hood instantly!
As a side note:
Hood pin kit install is a breeze! Installing this kit is so simple, easy and quick. Had I realized it, I would have done it on the stock hood just to pacify myself until this hood arrived. And for those freaking about about drilling holes in the hood, oh brother, find a real problem to worry about. I didn't thing twice about drilling into a $2600 hood let alone a simple $500 stock hood. Speaking of which, anyone need a Hemi Orange hood? LOL