·
Mopartial to Challengers
2013 Dodge Challenger R/T Classic
Discussion Starter
•
#1
•
Yesterday I contacted a company here in San Diego about powdercoating my wheels black. Checking out their website, I came across this service:
High Temp Ceramic Exhaust Coating.
Interesting, but I don't know how valid their claims are. A 3% HP gain is negligible, but I'm more interested in their claim of reducing reducing under-hood temperature by 30ºF or more, which is pretty significant.
Has anyone had this done?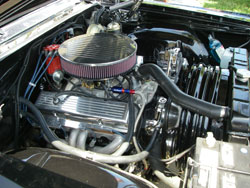 Best corrosion protection of any exhaust system coating
Tested to over 900ºF base metal temperature and 1200ºF exhaust gas temperature
Can be applied to any part that can withstand 500º cure temperature
Provides lifetime protection against rust
Treat your engine to a cooling horsepower boost. Ourhigh temp coating increases power by insulating the exhaust system, keeping the exhaust heat in the tubing, and typically reducing under-hood temperature by
30ºF or more
. The result is less heat absorbed by nearby parts and surfaces, thus helping to preserve valuable engine electronics. Our coating also contributes to faster exhaust flow and better cylinder scavenging. All of this adds up to a higher density fuel/air charge and more horsepower. (
Horsepower gains of over 3%
have been reported after coating alone.)
Besides a noticeable increase in engine performance, high temp exhaust coating also helps extend the service life of your components by reducing thermal fatigue and fighting corrosion. Because the system is insulated from exhaust heat, you get the added benefit that parts cool off quicker for easier adjustments and tear-down between events.