Discussion Starter
•
#1
•
So this will be my second time changing my own oil. First time, went swimmingly. Had an SXT, easiest oil change I've ever done. Today, in my R/T, had a
slight
disaster. Everything was going fine at first, removed the belly pan, the filter wasn't on insanely tight so I was able to get it off
There it is. But when I managed to get the filter off... it drained probably a liter, maybe slightly more, and stopped. Not even dripping. I was like hmmm... this is odd. The dip stick and oil filler cap were off, so there was no suction being created. I re-inserted the dip stick and sure enough more than half was still in the engine. Called my younger brother, a grease monkey, he gave me some advice. PM'ed a few people here. The problem is I didn't want to crank it to get it down, so I figured maybe just push it off the ramps... but I would have had to start it to get it back in the garage (only level spot, driveway is extremely angled).
Then I thought, well... if there is still over half the oil in the engine I'll crank it super fast, get off the ramps and get back in the garage and let it drain further. So I replaced the dip stick, the oil filler cap...... and not the filter. Halfway through the crank I had a moment and clarity and thought, "My God, what have I done" :shakehead:
Here is the after math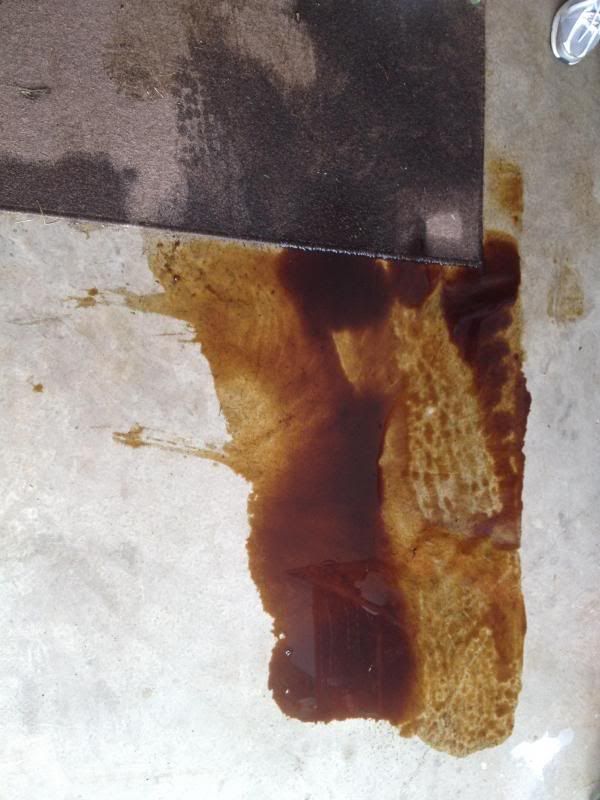 In the 3 seconds it was cranked I blew out the rest of the oil, mostly (thank God) onto my garage floor, but partially under the car on a few bits and pieces. Luckily I have a bazillion cleaning tools so I was able to take care of that. I've got 99% of the floor mess up, fixing to go get some more cleaning supplies and finish that off.
Anyway, I was able to finish changing my oil. No issues. Definitely gonna baby my car for about a week and make sure no issues arise from my temporary lapse of judgement. Anyway, hope somebody learned from my completely moronic moment! :smiledown: