Just wanted to do a quick write up on how to change the LED lights above the driver and passenger seats. I changed out my dome lights to a bright white LED and the other lights still had that yellow glow.
The led lights I used are:
http://www.superbrightleds.com/moreinfo/surface-mount-smd/little-dot-smd-led-accent-light/639/
1: Pull out the small ring that is in the head liner. I used my fingers, but you can use a small flat head screwdriver too.
2. Pull the head liner down to access the LED with PCB.
3. Unplug the LED and PCB from the connector.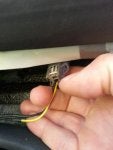 4. Sorry no pictures for this part, but you have to open up the black housing to remove the PCB.
5. Once the PCB is removed, cut the black and yellow wires right where they are soldered into the board, or you can de-solder them.
6. Once the wires are removed, stick your new LED over the existing one on the PCB. It has a sticky back on it, so there is no need to glue it down.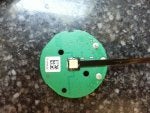 7. Solder the wires coming from your new LED to the wires coming out of the connector. It's black to black and red to yellow.
8. Re-install PCB in housing and install light back into head liner.
Here is the difference, sorry it's daytime but you can still see how much brighter the new LED is.
This was my first write-up, so I hope it helps if you are looking to do the same thing.