Discussion Starter
·
#1
·
Took about a half hour, but I was able to knock out the new intake and catch can install. Neither was really hard. Hardest part was getting the stock PVC hoses off(ended up just cutting one off lol). Definitely going to upgrade to the braided lines in the future, but for right now, i can stand the rubber hoses. I'll try to get around to painting the engine cover this week as well. The CAI install was a breeze. Thing looks great and sounds better. Even had to cut the radio off to listen to her as I cruised around. Of course, I also went back to a desolate area of country road to see if the new CAI helped in lowering the 0-60. I found that it didn't. No biggie. My fastest time so far has been a 5.11, on a cold night with traction control off. Today I registered a 5.30. Saw a check engine light come on so I quickly scooted home to plug my intune in and read the code. P0113. Intake air temperature. Silly me didn't plug the sensor back in. Cleared the code, haven't driven it since, but I'm a take it out for a few mins tonight to see if that clears the code. Hopefully so. If not, I may have to take th intake back off and see if I have the sensor pointed the right direction.
Anyway, here's a pic.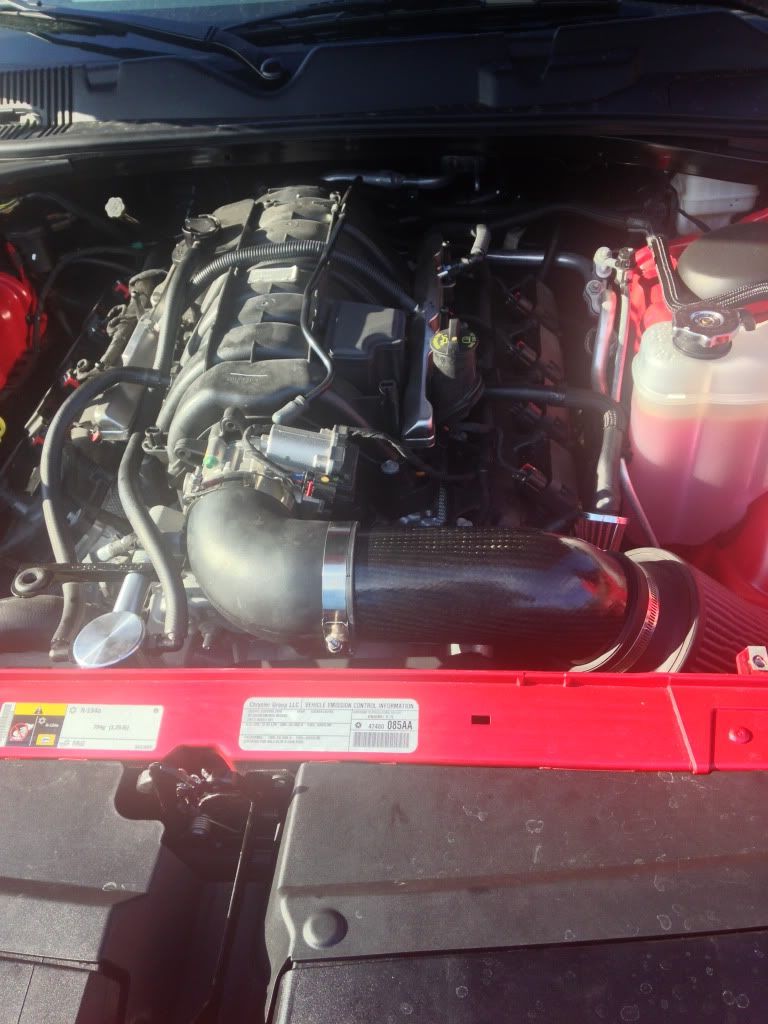 Now I just need to figure out why my intune app freezes on my laptop because it's keeping me from updating the tuner and tuning this beast. I also still have my blastin bobs reso delete kit riding around in my trunk lmao. Hopefully I get that knocked out in th next upcoming weeks.