·
What's Old is New Again!
When I saw moparx2's post about his door inserts about 2 months ago, I knew that was going to be my next mod. After contacting my friend, Jina, we came up with a suitable idea. I went to Joanne Fabrics and got 2 sections of 12" x 36" black marine vinyl and sent it off to her. Within a week, she had completed her task and got them back to me. That's pretty fast, across the country and back within a week! Well, it's taken me that long to get up the courage and figure out how I wanted to do this.
Driver's Door Insert -
Passenger Door Insert -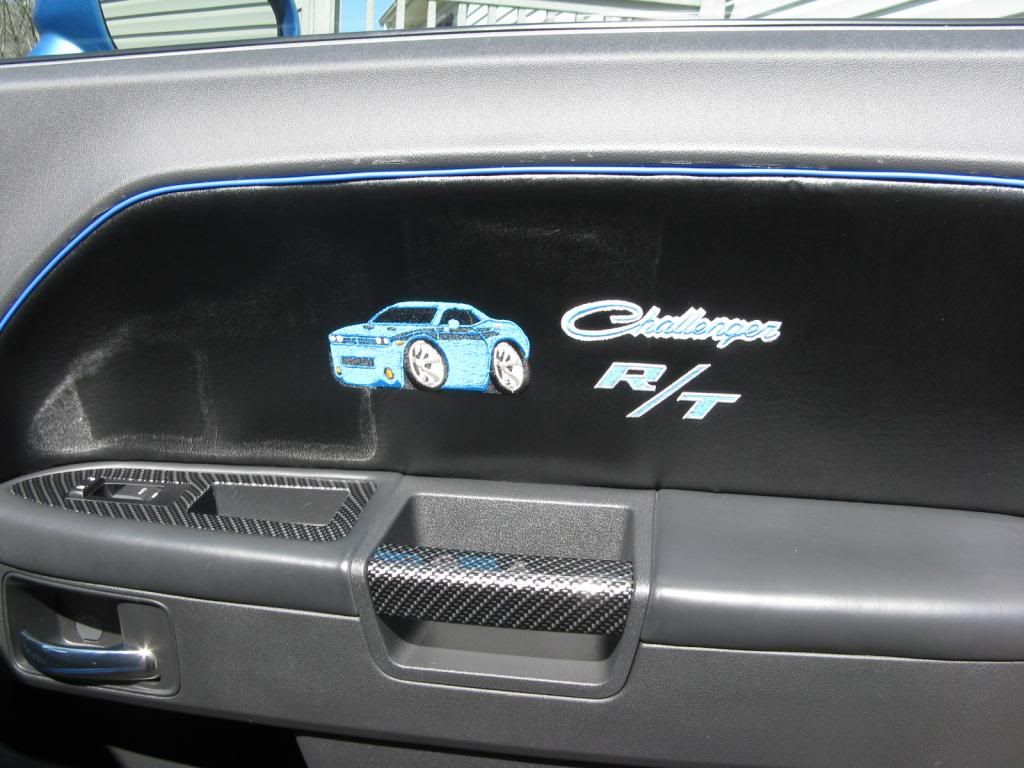 First I took the door panels off the Challenger. Then i roughly cut the shape of the insert. I wiped the factory insert down with Isopropyl Alcohol. I then fitted Jina's inset to make sure it was in the right position. I sprayed the section on the back with the embroidery with 3M Super 77 adhesive and sprayed a corresponding section on the factory insert. I let the adhesive tack up for about 2 minutes. I then carefully laid down the insert, making sure it was where I wanted it, and rubbed it down with my hands and fingers. I let that dry overnight and began working on the sides and top of the insert. This time I used a water based contact cement. After the proper tacking time, I set those areas in place and rubbed them down, keeping the vinyl taut. I then cemented the lower part and tucked it in. After another day, I cut the outer part of the insert and using small amounts of cement, tucked that in. I then used some of the PVC Piping to finish it off. I had to cut the webbing down on the piping to get it to set down.