In the first part of the upgrade to my RT, I swapped in a 6.4L 6-speed cam, Manley 0.080" pushrods, Scat Pack Stage 3 ported heads with high strength "viper" springs, BBK ceramic shorty headers and Solo high flow cats. Along with the Solo cat back and email tune, I ended up with
375 hp / 385 lb-ft.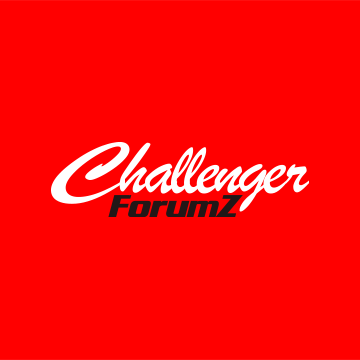 Well I have finally taken the plunge on upgrades to my '13 R/T. I'm new to THIS forum and decided to share here because the vibe is good. I've done some stuff to her over the past 5-6 years, the biggest being a sound system upgrade right out of the gate. Other than that some minor stuff like...
www.challengerforumz.com
It was a fun project months in the planning. It was sparked by a HPDE track day where I consistently ran out of revs coming out of a turn. So the 6.4 cam which pulls to 6,000 rpm which does not require a phase limiter went on the list. Pushing the revs, I did not want to bend a rod or float a valve or bind a spring so in went the pushrods and ported heads with high rpm valve train onto the list. First thing actually that I changed were my brakes which were warped before the HPDE day. That's when the stop tech rotors went on. It was a little unnerving late-braking hard at the end of the straightaway at 140 mph to avoid shutter.
That got me thinking about the everything downstream of the cam. Finished off the list with shorty headers, since I planned on pulling the heads anyway, and might as well put on high flow cats - the only thing left on the exhaust side.
Now I'm going to work on the intake side of things. I have a cervini's ram air intake coming tomorrow and a ported 80-85 mm throttle body on its way.
EDIT
It's now scheduled for 6/11/20 delivery due to the riots and curfews. Still should come before I take a couple of weeks off at the end of the month.
The ram air intake will get prepped and painted. I'm thinking gloss black with some red accents. The prep is pretty serious so I'll put in some elbow grease and get 'er done. It's hard to gage how long it will take since I'm no painter and I go slow. May 8 hours? There's a boat load of intermediate steps, multiple layers of primer to put down just to get it ready to paint. I don't want to rush it either and end up with a crappy paint job.
When the throttle body comes I'm going to port match the air intake to the heads, as well as the throttle body to the inlet. Then I'll port the runners, smooth it out and blend it all together. I figured it'll take about 10 hours to port the intake plus cleaning time both before and after porting. Figure 12-15 hours for the whole job.
I'm hoping to gain a few ponies with this. My guess with these mods:
Ported tb (5 hrspwers)
Ported intake (5 herspwers)
Dial in the tune (I'm running quite rich at the moment) (10 hrspwers)
395 hp / 405 lb-ft
No way to measure what the cervini's ram air will add. They claim 15 hrspwers. I might claim 10 if I need the ponies for bragging rights on 400 hrspwers.
Sound reasonable?