2020 Challenger Hellcat, 6 Speed Manual
I while back I ordered 4 SFT of 3M DI-NOC Burma Teak Wood Grain Vinyl Film to wrap my gauge cluster, center console, and radio cluster. I ordered a pry removal kit from Amazon for 10 bones that is essential to get the pieces pried off.
I performed the gauges first:
-Remove push tabs from kick panel
-Remove fascia of cluster by gently prying out the push tabs leaving the cluster in place: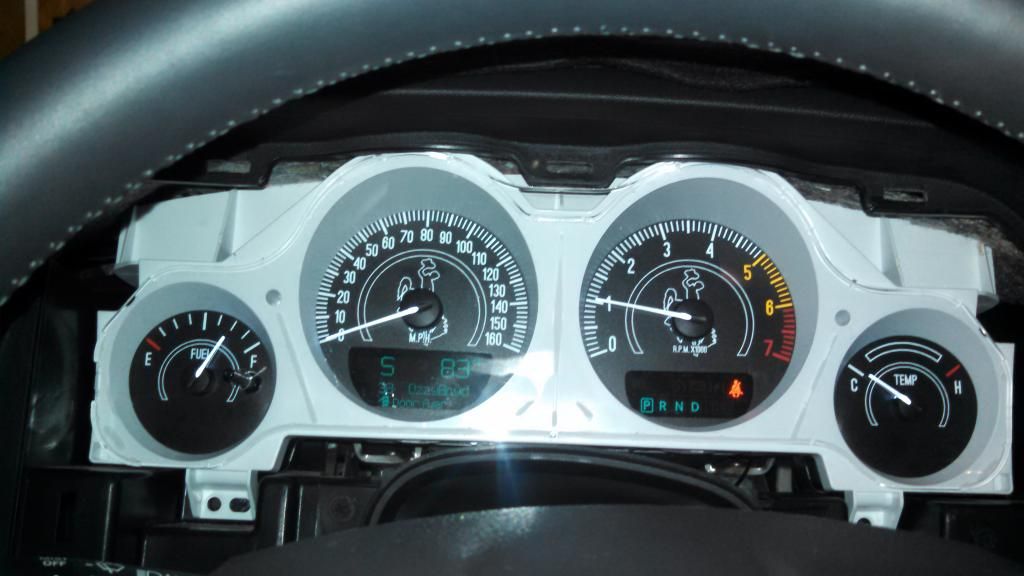 -Place fascia on back side of vinyl wrapping and use a felt tip pen to start drawing the outline of the cluster
-Cut cluster out of wrapping leaving 1/2" or so of excess material so you can stretch and form the material
-Remove backing from wrapping and place fascia on sticky side of wrapping
-Start applying heat and gently start forming to the fascia
-Taking your time slowly start forming and trimming the vinyl wrapping. I found it best to cut (+) sign relief cuts around circles and pull each of them around the fascia. Then with a scalpel I trimmed around each gauge. This is a time consuming step but is what gives you your finished product. With the accents and lines of the fascia it is a more difficult piece to wrap and am sure I could do better now that I have done it:
- To finish just push back in place: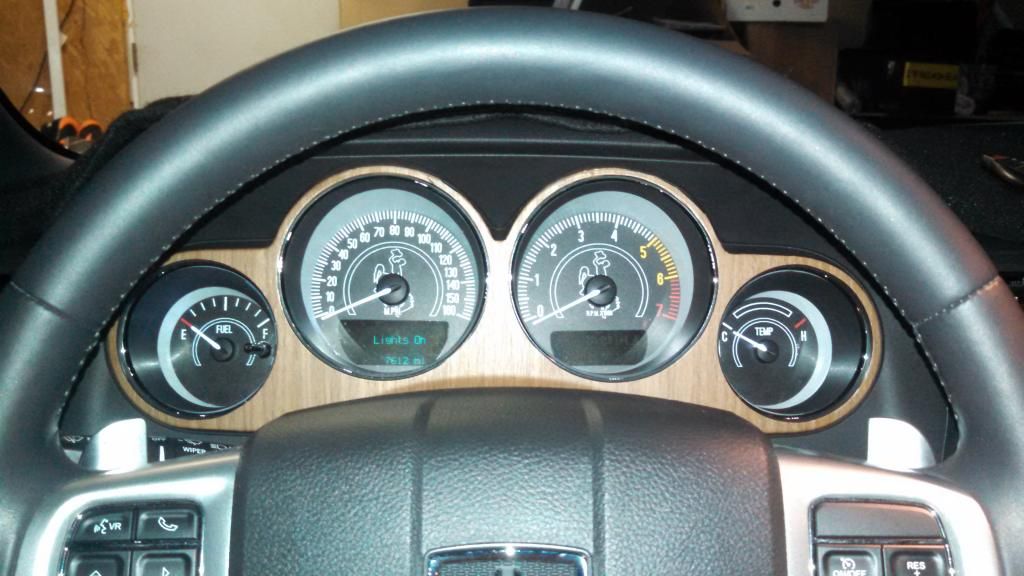 I then did the center console:
-Begin by removing bezel around shifter, held in place with push tabs and then remove console (also held in with push tabs, just work slowly around until they are released):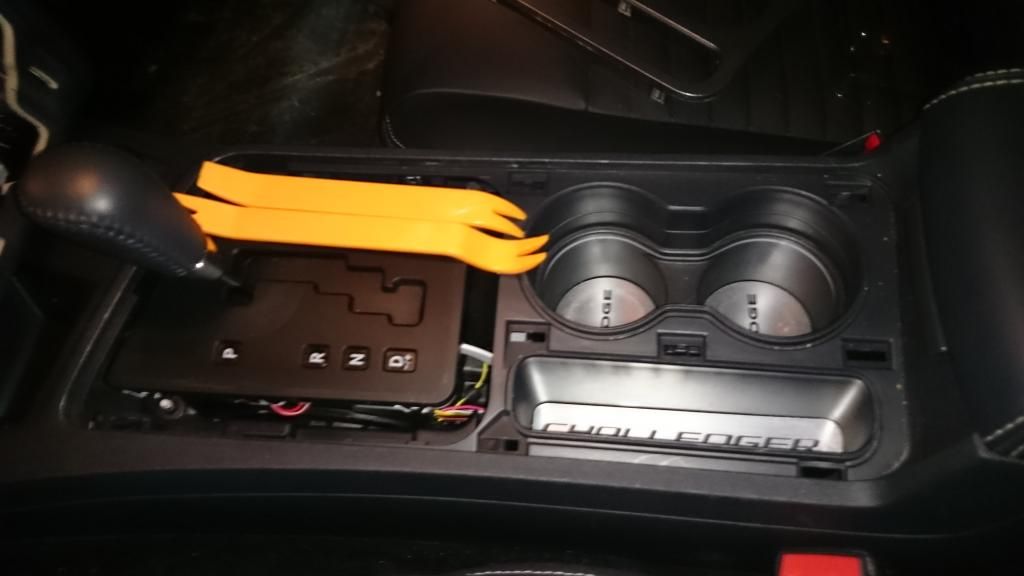 -Then place on wrapping and trace out shape and trim to size
-Peel off backing and place on wrapping
-Begin applying heat and forming to shape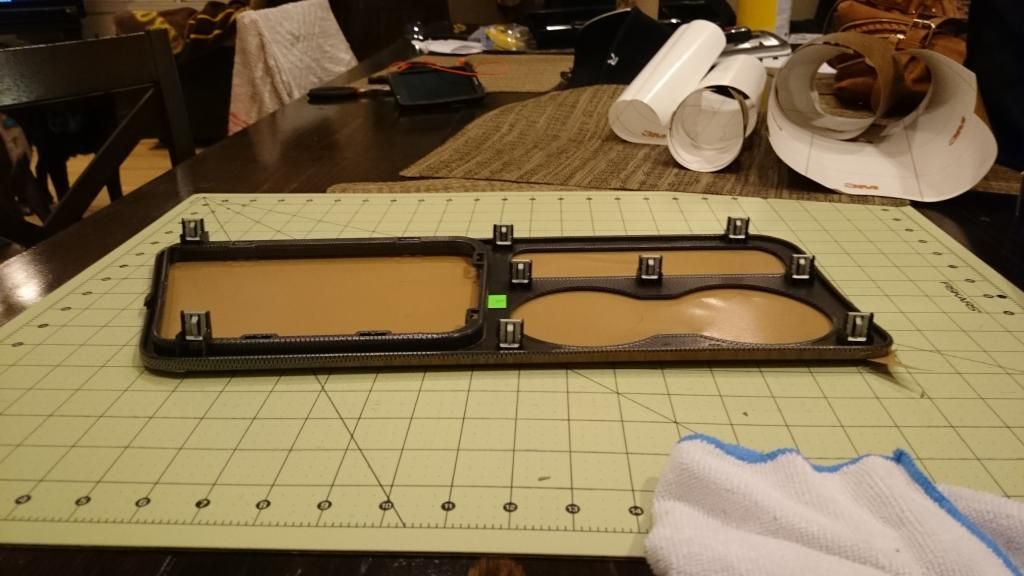 -Again using relief cuts around the cup holders and inserts slowly apply heat and form to shape
-It takes a lot reiterations of applying heat and forming (If you mess up, you can apply heat and pull back and try again, pretty workable in that fashion)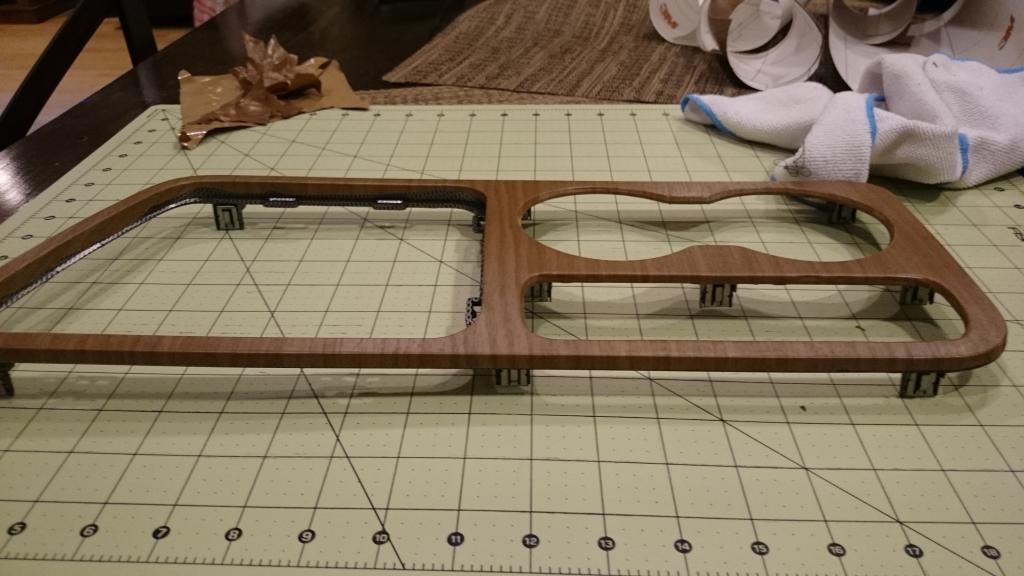 -This was the easiest of the three pieces to do
-To re-install just push back into place
Next was in radio cluster (and the most difficult and a PITA):
-This piece is also held in with push tabs, but the climate control and bottom buttons are bolted onto it
-Remove sensor clips on all the attached equipment
-To remove the climate control and bottom buttons you some very small non-normal socket (thanks Dodge), I was able to find one that worked at the forth store I went to size E6 and is more of star configuration instead of hex head that the bolt is it is probably around 3.75 mm.
-Again place on wrapping, trace, trim, remove backing and place on wrapping
-Apply heat and slowly start conforming to surface
-This cluster has so many contours on it and is why it is the most difficult of the three pieces
-Just apply heat and work slowly
-I wasn't happy with how the material handled the contours around the buttons and climate control so I trimmed these pieces out and will probably pick up some black paint to cover the carbon fiber pattern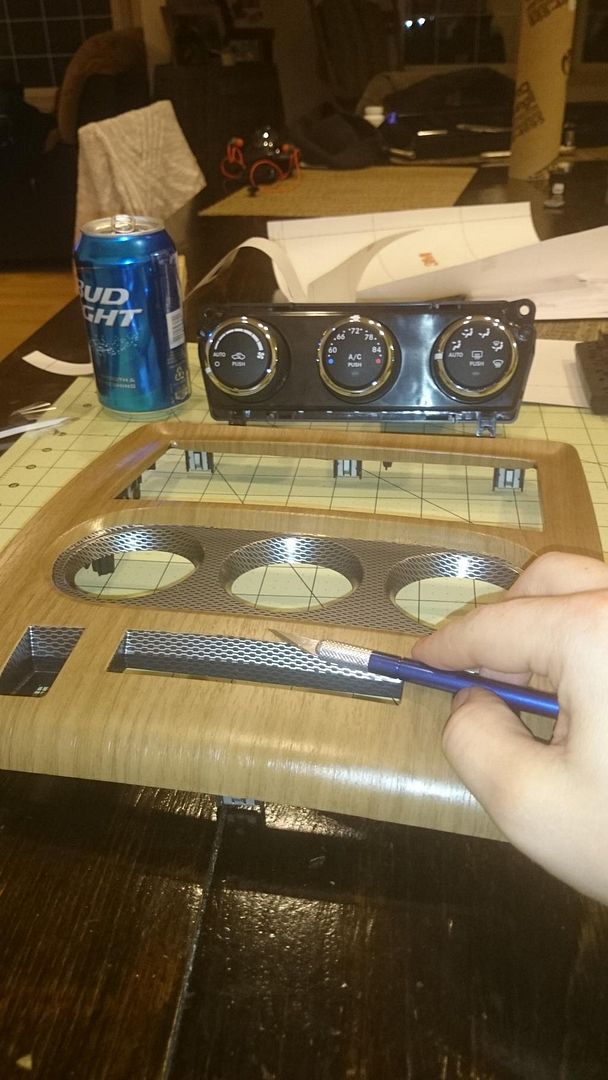 -Re-install the electronic sensor units and push back into place to complete the project
I really like the finished product and how it looks. This is a time consuming project and the level of difficulty is moderate to moderately hard. If I was to do it again I would of hydro-dipped all three parts although it would have cost a lot more. The wrapping is relatively cheap (30 bucks for a 4-SFT sheet). so you can always order more and do it again if needed. I would say this took me 6-hours or so to do. Your fingers will hurt after all pressing and pulling of the material.
Here is the car finished: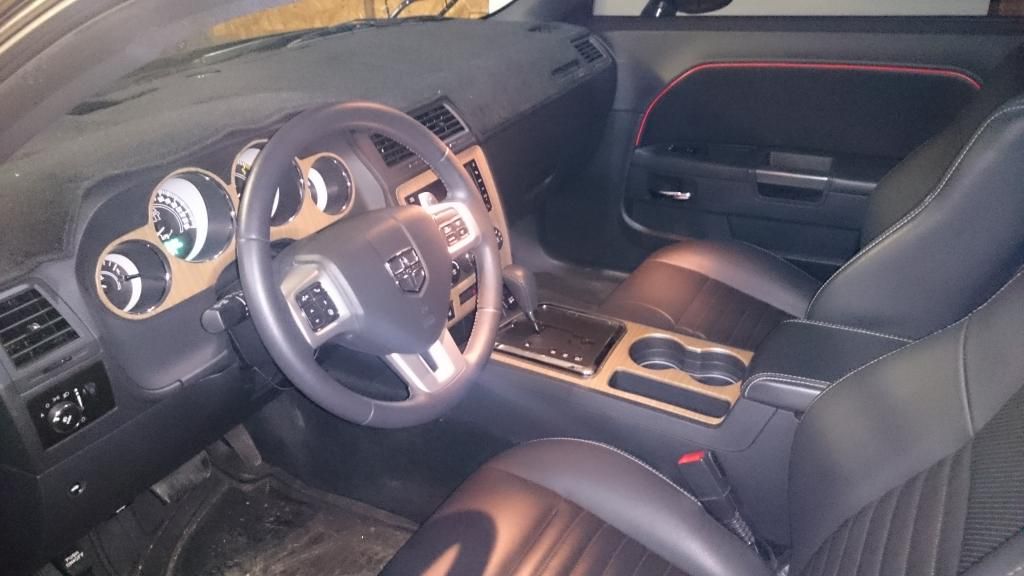 Tools required for installation: